Home Page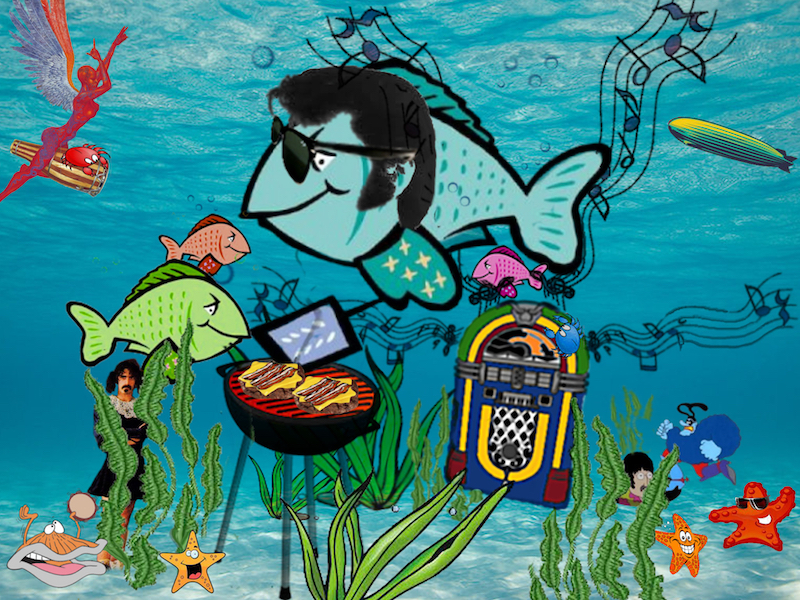 Follow @RealElvisfish
Update Required
To play the media you will need to either update your browser to a recent version or update your
Flash plugin
.
Howdy friend!
Now Playing (when it ain't live):
---
We're about ready to kick off another show in a couple of hours. Tuna in at 12:00PT right here.


---
Elvisfish done talked me into doing a show tomorrow. He didn't have to talk much. Good thing for him. He can't talk. He's a fish. He can sing, though. Go figger. Anyway, tuna in at noon Pacific time tomorrow (that's 20:00 for you UTC folk) and you'll hear some music.


---
Thank ya, Elvisfish. Thank ya very much.


---
Looks good, RG. Now where'd I put that pepperoni?


---
Well, we got 'er going. I gotta do some database cleanup, and some prettying, but we got a working BLOG now. Elvisfish says, "Thank ya. Thank ya very much."


---
Elvisfish has been busy around here (He told me to say that even though I do all the work around here. He's a proud fish.) Anyway, it may not look like much right now, but the groundwork is here. We have a web page served by an app that Elvisfish (*ahem*) wrote. There will be more to come as Elvisfish teaches ol' Rob Gnarley (*ahem*) how to code more stuff. Until then, enjoy this setup. The player will feed live shows when available. Later on, Elvisfish and I will figure out how to code a new media player that will combine these and future show archives into a selectable play list. Also 8bitdame is workin' on some original artwork. Heck, this thing is about ready to broadcast.


---
← Older posts
Newer posts →